A medium and a movement is getting lovers of print talking… and accentuating the positives.
The German group operates under the hashtag #printproud, and is the project of print tragic Andreas Plettner who says that despite the shift to digital, print media is holding its own.
In Germany – Europe's largest print market – online media spending is down ten per cent on last year, while print media spending overall held its own at 555 million Euros for February. Regional newspapers generated one billion Euros in sales for the first time through digital subscriptions, something Plettner says "can only strengthen print and create stability in advertising sales".
Plettner is head of new business and marketing at print media production specialist MedienSchiff BRuno in Hamburg. With fellow "crew members" of MS BRuno – more of that later – they have founded the #printproud initiative – a movement and a magazine for anyone who has "dedicated their heart and soul" to print. Plettner and his colleagues share creative ideas and concepts with an audience that extends from publishers and agency owners to art directors, editors and marketing managers on social media via #printproud or in their #printproudmagz.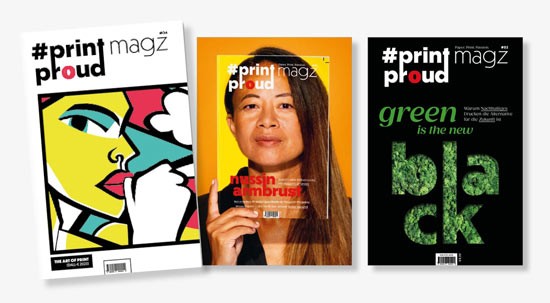 MedienSchiff BRuno is so-called as it's housed on a vintage 1912 ship in the Port of Hamburg. Clients include Hamburg Airport, McKinsey, UNICEF and the German National Library. Before joining its crew, Plettner worked for Axel Springer, Bild and Zeit Sprachen, where he developed his love for print.
The magazine aims for "the heart of what we actually stand for" and shares the team's passion for print. "Also, our customers are just as crazy about print as we are, giving us huge creative know-how and collective potential. So we decided to set up an initiative that put print in the spotlight," he says in an interview for PrintPower.
Despite rapid digitisation across all industries, #printproud "isn't promoting a backward-looking argument against the move to online channels.
"Rather, it's celebrating print's positives right here in the present. After all, print has repeatedly proven its raison d'être. And it's even experiencing a renaissance in certain areas."
Beautifully designed and illustrated, the #printproudmagz is published twice a year in German and currently has a circulation of around 1500. It's a special interest publication for print enthusiasts, with stories "as diverse as our industry".
"We often focus on the people behind the subject matter and projects: Why and how do they work with print, and how have they made a success of it?
"Each article is beautifully illustrated by our design team and each page is a work of art. I don't know of any other industry magazine that's anywhere near as visually opulent," he says. "It's important for us to look ahead: What surprises does print still have in store for us, how can technological developments inspire and impact the industry, where are the opportunities?
"Whether that's the analogisation of non-fungible tokens that are printed, multichannel marketing measures such as programmatic print or direct mail retargeting or printed electronics which are suddenly showing rapid growth figures.
"For instance, did you know that batteries can be printed on paper or foil? With real colour? We tell stories like that."
Along with themes such as the impact of the struggling economy on advertising, digitisation, personalisation and raw material prices. "And I'm personally very excited to see to what extent AI will influence the advertising industry in the future. In my opinion, CHAT GPT and its AI siblings have raised a topic that fires the imagination of our fellow human beings enormously.
"There is still a lot to be expected," he says. Watch this space.
While popular magazines are losing, Plettner puts the growth of newspapers down to three factors:
-The desire for reputable and reliable news sources;
-Regional newspapers are increasingly installing good payment models for their digital offerings, "good news for everyone, because even if new subscriptions are digital, they support the necessary investments in journalism overall";
-Almost 57 per cent of Germans are between the ages of 35 and 80. That's 48 million people from the Baby Boomer generation and Gen X who grew up with print.