Printing newspapers and commercial work six days a week in a remote location near Yellowstone National Park brings challenges of its own.
Reaching the nearest back up printer requires a journey over treacherous mountain passes more than 250 km into Idaho is just one for family-owned Teton Media Works, which prints the Jackson Hole News & Guide and a range of other work on a WebPress Quad-Stack pressline.
Now a project to reconfigure and expand the press will see a single-colour Atlas unit removed and one of the four-colour Quad-Stacks moved to make room for a second folder.
ImPressions Worldwide will also replace and upgrade drives, reconfiguring motors to create a new AC shaftless system with more flexibility. Dual water systems and a chiller round out the order.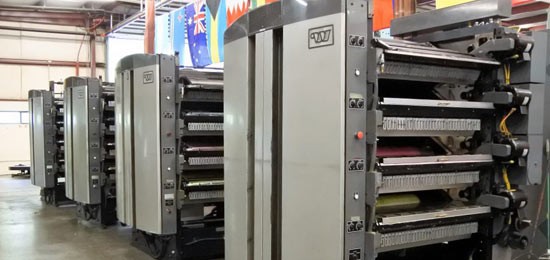 Now able to host customers at its headquarters in Burlington, Washington, again, ImPressions is being kept busy with single-width work including some of the plethora of equipment currently on the market. Among this is this highly-automated 560mm Goss Community from Denmark, which they offer as partners with DCOS. The 2005 press includes six four-highs with Megtec splicers, and an SSC folder with quarterfold.
Pictured from top: Teton Media Works; four Quad-Stacks at ImPressions in Spokane; and the six-tower Community